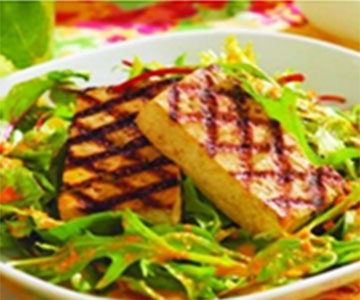 Ingredients:
Tofu – 200gms.
Lettuce – 2 leaves.
Parsley – 1 stalk.
Celery – 1 stalk .
Seasoning:
Butter – 10gms.
Salt & black pepper as per taste.
May – 2 tsp.
Method:
Melt butter add chopped celery & parsley stalks, salt & black pepper mix well to make a marinade.
Marinate tofu in the above marinade for 1 hour.
Grilled tofu on non-stick until gold brown.
Mix chopped lettuce leaves & mayo.
Serve the herbed grilled tofu on bed of lettuce.