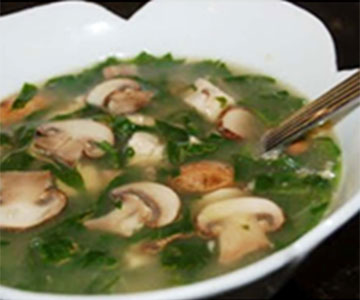 Ingredients:
2 cups Blanched.
Spinach leaves.
100 gms Tofu.
8 – 10 Mushrooms.
1 or 2 Red Chilly.
5 gms Butter.
Salt, soya sauce and pepper according to taste.
Method:
In a large sauce pan, add butter and all the ingredients and sauté.
Add water 3 cups of water and bring it to boil.
Simmer it for 2 minutes.
Add salt, soya sauce and pepper and serve hot.