We are immensely happy and proud to share that "Prettislim Clinic" has been awarded as the "The Economic Times Best Healthcare Brands 2016" on 27th June 16 at Hotel Taj Palace, Delhi.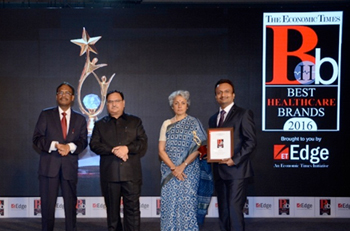 Shri JP Nadda, Hon Minister, Health & Family Welfare handing over "The Economic Times Best Healthcare Brands 2016" Trophy & Certificate to Dr. Puneet Nayak, Founder & CMD, Prettislim Clinic, at a gala function in the national capital, New Delhi, on the evening of 27th June 2016. To his left, Dr. Jagdish Prasad, DGHS, Govt. of India, and to his right, Dr. Sowmya Swaminathan, Secretary, Dept. of Health & Research, Govt. of India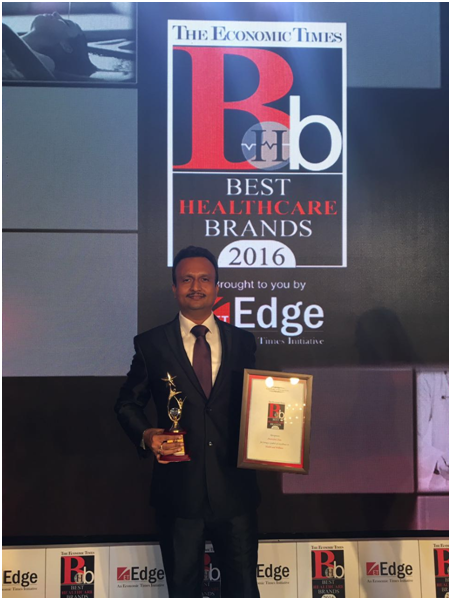 Dr. Puneet Nayak, CMD, Prettislim Clinic, with the Best Healthcare Brands 2016 Certificate & Trophy
Prettislim Clinic has been recognised 'for being a Symbol of Excellence' in "Health & Wellness" category based on a formal market survey commissioned by ET & MRSS, covering a sample of 9,270 persons from 6 Metros and 11 Mini Metros cities of India.
Research
The survey was conducted by The Economic Times & MRSS to derive the Best Healthcare Brands across different segments under healthcare. A list of over 100 brands in each segment had been considered as part of the study.
Key parameters for the survey:
Brand Awareness and Recall
Innovation
Research & Development Facilities
Quality of service
Consumer Experience
Product Portfolio
Consumer Satisfaction
The survey was conducted through an interview method across 6 metro cities and 12 mini-metro cities in the 4 zones of India. Total number of respondents were 9270 comprising of patients, consumers, healthcare professionals, hospital stakeholders (employees and staff members).
Core research and survey of brands was conducted, under the following categories:
Hospitals
Pharmaceuticals
Health and Wellness
Diagnostic Labs & Eye Care Centres
Consumer Healthcare
Medical Devices &Equipments
Surgical Instruments
We thank all our patrons for their trust and belief in us, Team Prettislim for Years of Hardwork & Dedication, Our Friends & Families for their Untiring Support & All Our well-wishers for their best wishes.
We also thank Team of Economic Times & MRSS, for their extensive research, unbiased judgement and trusting our brand. We dedicate this award to each and every one mentioned above.
Thank you once again to all of you.