Saggy breasts are an issue for many women. Gravity, weight fluctuations & age, all take a toll on the skin covering breast tissue. The breasts are among the first body parts to respond to weight changes, causing repeated stretching of the skin over time. As women age, their skin becomes less supple & the body's loss of collagen can cause droopy breasts. The only way to fully correct this problem is breast lift surgery to remove excess skin, but the surgery also has its side effects and Risks, like scaring, Loss of sensitivity or numbness, Asymmetry, Leakage of Silicone Implants etc.
So what are the alternatives for breast lift?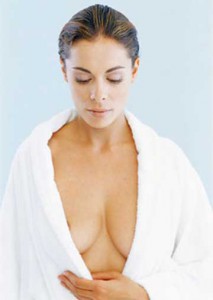 If you are considering a breast lift to perk up sagging breasts, but are not fully sold on undergoing surgery due to the potential side effects of any surgery & if you do not have surgical results expectations, then you can review some of the breast lift alternatives:
Botox breast lift – Botox, the same neurotoxin that can help temporarily erase your frown lines and other facial wrinkles, may also help lift sagging breasts. A Botox breast lift involves injecting Botox into your pectoralis minor chest muscle. This allows your back muscles to compensate by lifting the breast. The main downside of a Botox breast lifts? The effects are not as dramatic as those of a traditional surgical breast lift (mastopexy). In fact, the lifting effect is mild, lasting roughly three to four months. On the plus side, Botox breast lift is surgery-free and produces no scars and no real breast lift recovery time.
Breast lifting creams – There are a myriad of dream creams out there in the market that promise to firm your breasts without the breast surgery risk, but most are nothing more than glorified moisturizers. They likely do no harm, but No Good either.
Chest exercises – Exercises that target and strengthen your chest muscles can also help firm up breast tissue, specifically the muscles beneath. That said, if the sagging and drooping is pronounced, exercise alone likely will not make the same difference, as lose skin may not go away with chest exercises alone.
A new bra – It is recommended to wear a well-fitted bra. Wearing the wrong- sized bra (of which many women are guilty) changes the appearance of your breasts. If your bra is not supportive enough, all that bouncing around, actually wreak havoc in the connective tissue of your breasts, causing them to sag or droop.
U-Lipo B-Tone – It is a non surgical procedure that uses radio-frequency waves to breast skin tightening. This may help lift and firm sagging skin in the breasts. It uses radio frequency to tightening of breast tissue by using electrical energy to produce collagen remodeling, growth, and fat shrinkage in select areas. Correctable conditions include early stages of saggy breast. Along with the chest exercises & a correctly fitted bra, it can give a satisfactory outcome, especially in early cases. But obviously, do not expect dramatic improvements or surgical results, from a Non surgical procedure. To Know More about How Breast lift works without surgery- Click Here.
U-Lipo B Tone results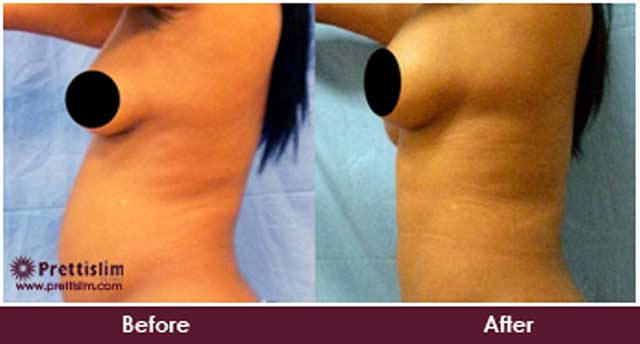 ---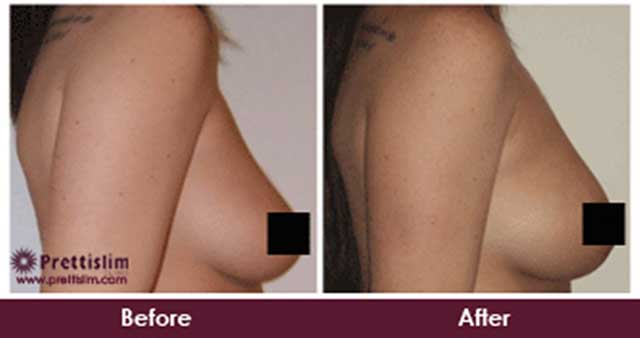 Disclaimer:* Results may vary from person to person depending upon age, sex, basal metabolic rate, medical history, family history, lifestyle and physical activity.