What is BMI & Why It is Important?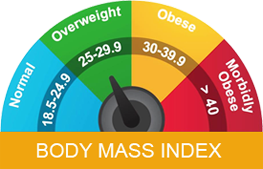 Your BMI is a measurement of your
body fat
based on your height and weight. Although your BMI does not actually
"measure" your percentage of body fat,
it is a useful tool to estimate a healthy body weight based on your height. Due to its ease of measurement and calculation, it is the most widely used diagnostic indicator to identify a person's optimal weight depending on his height. Your
BMI "number"
will inform you if you are underweight, of normal weight, overweight, or obese.
BMI is an estimate of body fat and a good gauge of your risk for diseases that can occur with more body fat. The higher your BMI, the higher your risk for certain diseases such as heart disease, high blood pressure, type 2 diabetes, gallstones, breathing problems, and certain cancers. However, due to the wide variety of body types, the distribution of muscle and bone mass, etc., it is not appropriate to use this as the only or final indication for diagnosis.
In addition, people of Asian descent may have an increased risk of health problems at a lower BMI threshold than the general population.
Asians with a BMI of 23 or higher may be at risk.
Just enter your Height in Cms & Weight In Kgs, along with your contact details and Press "Calculate BMI". Your BMI score will Instantly Flash on the Screen. Also, you will receive the same in email.