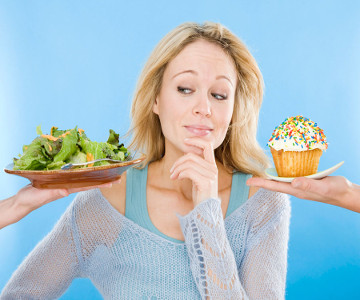 Eating out? Just Keep These In Mind!
Choose a restaurant where you know you can get a healthy meal.
Go with people who are supportive and would not force you to stuff yourself. Decide ahead of time what you are going to order.
When you get to the restaurant
As soon as you sit down, order a salad without dressing and a glass of water. Waiting for your meal to arrive is difficult, so it's important to have something to fill this  "in between tempting" time.
Be the first to order so that you are not influenced by the rest of your group.
If you already know what you are having, do not even look at the menu.
Have only one serving/one portion.
Try not to keep food in front of you. Once you have finished eating simply move away from the food decisively.
Feel proud of your strong WILL POWER!
Smart Choice
The Smart Non-Vegetarian Slimmer's Choice While Eating Out
Chicken and Veg. Clear Soup
Tomato and Egg drop Soup
Grilled Chicken Sesame
Tandoori Chicken with Salad
Tandoori Pomfret
Barbecued chicken with Salad
Barbecued Fish
Chicken Tikka with Salad
Fish Tikka with Salad
Grilled Fish Chilli
Stir fried Tofu with Chinese Greens
Sizzler–Chicken Shashlik without Rice, Noodles and Fries)
Fresh Lime Soda / Water (salted)
The Smart Vegetarian  Slimmer's Choice While Eating Out
Clear Tomato / Veg. Soup
Veg. Tomyum Soup
Silken Tofu and Veg. Clear Soup
Sauted Mushroom with Ginger
Vegetable Pepper Salt
Garden Salad
Stir fried Vegetable
Stir fried Tofu with Chinese greens
Paneer Tikka
Stir fried Spinach with Sprouted Beans
Fresh lime Soda / Water (salted)
Sizzler— Paneer Shashlik without Fries, Noodles, Rice)
Leafy Sprout Salad