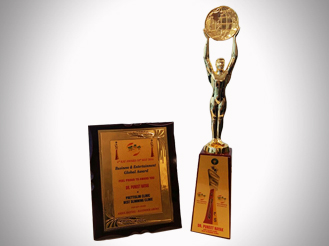 Prettislim was awarded as Best Slimming Clinic in Mumbai, at the KAF Business & Entertainment Global Awards on 30th may 2016.
At the KAF Business & Entertainment Global Awards held on the 30th of May, 2016, Prettislim won the award for the Best Slimming Clinic in Mumbai. The fourth edition of the KAF Award function hosted awards in more than 50 categories. The nominations were judged by an elite panel of jury which included prestigious personalities from all walks of life. The KAF Global Awards are given every year to recognize the extra-ordinary contributions of individuals in their respective fields. There were celebrations in the air as the popular KAF Awards evening left a lasting impression in everyone's minds. This was the 4th edition of KAF Business and Entertainment Awards where people from different walks of life received the award. Apart from Prettislim, Other Dignitaries who received the prestigious awards include Udit Narayan, Ahsaan Qureshi, Sunil Pal, Pahlaj Nihalani, Preeti Pinky, Shabab Sabri, Businessman Gurubhai and Anil Murarka, RJ Anurag Pandey, Raja Hasan, PI Arjun Rajane and Subhash Khandvilkar.
One of the foremost slimming clinics in the city, Prettislim has been encouraging clients to live a healthy lifestyle for over a decade now. Their constant dedication to Research & Development (R&D) allowed them to change the face of slimming technology, when they introduced their revolutionary U-Lipo treatment. Non-invasive, safe, pain-free and effective, U-Lipo helps clients shed up to 8 centimetres per session. Since 2005, Prettislim has served over 5,000 customers from all walks of life, including doctors, models, lawyers, corporate professionals, housewives and politicians, and has a 95% satisfaction rate. With such a fabulous track record, it's no surprise that Dr. Puneet Nayak, Chairman and MD of Prettislim, picked up the Best Slimming Clinic in Mumbai Award in May.