U-Lipo Face & Chin Tuck is indicated for Double Chin Reduction and Face Skin Tightening.
Double Chin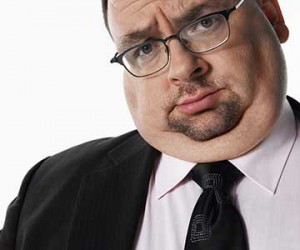 A double Chin is the result of a subcutaneous fat around the Neck area. When this layer starts to sag it gives the impression of a Double Chin. The subcutaneous layer in this case tends to retain water and store fat in this area. The main reason for fat storage here is, the body has saturated or exhausted fat deposition in regular areas like Tummy, Sides etc. These people are often uniformly rounded due to Obesity.
Other reasons leading up to fat storage under and around your face and chin are Age and Genetics. Studies show that people who have a short chin structure often develop a second chin. Generally it is observed that obesity and double chin go hand in hand.
These are strong signs that it is time to take steps to correct your body shape. As staying fat may seem harmless, or just loss of body shape but it is a far cry from this. It is actually a clear indication that you need to be more careful about your lifestyle, than your contemporaries.
How to reduce double chin without surgery?
Exercises to reduce double chin helps to tone the lose muscles of the neck (Sternocleidomastoid & Platysma) but are not able to target the fat stored underneath.
Losing weight overall, would also help to a certain extent, in reducing double chin. But it is also not a targeted fat reduction.
People are often found to be taking expensive Facial Treatments or specialized Massages at Spa to work out the Fat in the Face Chin area. It is a myth that you can get anything but a rejuvenating effect from these treatments, as these processes work only at superficial level.
Programs related to double chin reduction, Face Fat Reduction need to follow a more comprehensive approach. These drills connected to, "how to lose face fat and double chin," need a boost to give you the desired Double Chin Removal, Slimmer Neckline, or Slim Face.
This boost comes through professionally given Slimming Treatments like Prettislim Non surgical U-Lipo Face & Chin Tuck. The Toning and Firming that you really desire can be achieved through U-Lipo Face & Chin Tuck, along with Neck Exercises & Healthy Food habits. It is the most advanced technology available and a highly recommended solution to solve your query regarding how to lose double chin or how to get a slim face? It is a Safe Procedure. This treatment is non invasive and gives successful results. To learn more, Click Here.
Results of U-Lipo Face & Chin Tuck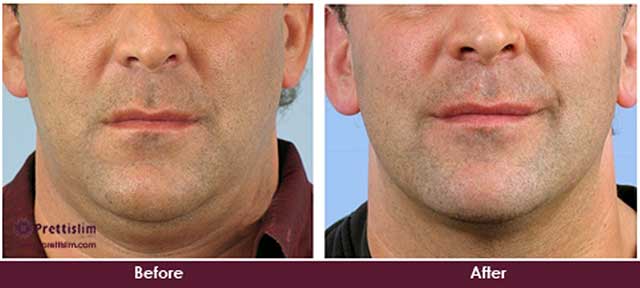 ---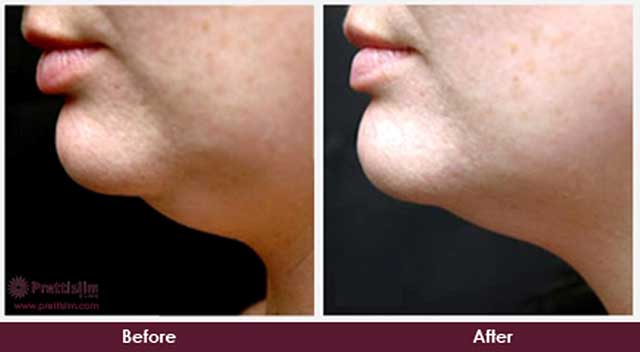 Face Skin Tightening
U-Lipo Face & Chin Tuck is also indicated for Face Skin Tightening. Skin and almost all other tissues of the body stays in a constant state of remodeling

throughout our life; however, as we age, the regeneration capacity of even the most labile tissues like skin decreases due to alteration in the composition and structure of connective tissue. The most abundant and essential component of skin is collagen, a protein that is responsible for the elasticity of skin. However, with aging, the production of collagen decrease that leads to wrinkles, sagging of skin, appearance of fine lines around nose, mouth and chin, appearance of bags under eyes and loss of skin tightness. U-Lipo Face & Chin Tuck is Indicated for all the above conditions which arise out of collagen degeneration, including Wrinkles.
What are Wrinkles?
Wrinkles are folds, creases or ridges in the skin, which appear as we get older. The first wrinkles to appear on our face tend to occur as a result of facial expressions. Sun damage, dehydration, smoking & other factors also cause wrinkles to develop. Wrinkles are a part of the natural aging process. As we become older our skin gets thinner, drier and less elastic, along with the reduced ability to protect itself from damage. Eventually, wrinkles, lines and creases form on our skin.
There are two types of wrinkles:
Surface lines
Deep furrows
Most basic wrinkle treatments tend to reduce the fine lines. For deeper creases more advanced techniques are required.
What are the main factors that cause wrinkles?
Apart from the normal aging process, the following factors promotes the development of wrinkles:
Smoking
Light skin
Genetic factors
Hair Style
Use of Protective Clothes
Occupational hazards of Jobs
Exposure to UV (ultraviolet light)
Facial expressions
Preventing wrinkles and lines
There is nothing we can do to stop the ageing process. However, the following steps would help to slow down the process.
Protecting Facial Skin From Excessive Sun Exposure by using Head Gear, Protective clothing & Sun screens.
Use of Moisturizers
Avoid Smoking
Adequate Sleep
What are the treatment options for wrinkles?
It is myth, that taking Anti Wrinkle Facials in Salons can reduce the already developed Wrinkles or Can Prevent Wrinkles. Simultaneously OTC Anti wrinkle creams, only help to a limited extent, as most of them are cosmetics, which do not penetrate the skin. Following are the treatment options for Wrinkles or for Skin Tightening.
Medications Like Topical retinoids
Surgery and other medical procedures

Dermabrasion
Microdermabrasion
Lasers
Botox (Botulinum Toxin Type A)
Chemical peel
Face lift Surgery (rhytidectomy) 
Soft tissue fillers
Non Ablative Radiofrequency: Non-ablative radiofrequency devices do not damage the epidermis. Only the dermis is heated Up, triggering the formation of new collagen as well as elastin. The skin feels firmer and appears refreshed after several treatments, resulting in faster recovery times; while at the same time more treatments are required for better results. It is a recommended treatment as No oral or local medicines/ chemicals are used in this procedure, also it is a Non surgical Process and it works at the dermal level, which is the source of wrinkles or Lose skin. Hence U-Lipo Face & Chin Tuck, with the use of High Non Ablative Radiofrequency, is recommended for Wrinkles or Facial skin tightening. To Know More- Click Here.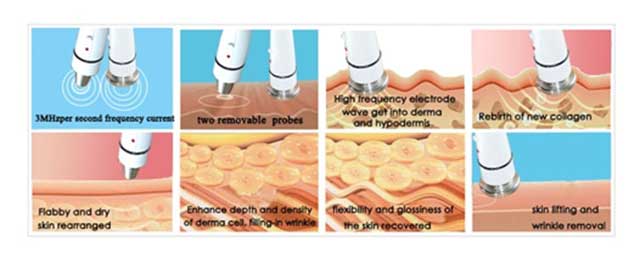 Disclaimer:* Results may vary from person to person depending upon age, sex, basal metabolic rate, medical history, family history, lifestyle and physical activity.