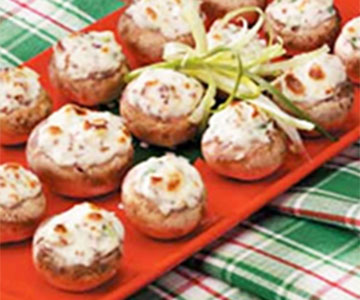 Ingredients:
Button mushroom – 6 – 8 in no.
Butter – 20gms.
For stuffing:
Mayo – 2 tsp.
Grated Cheese – 2 cubes.
Grated tofu – 50gms.
Ginger, garlic & green chilli – finely chopped 1 tsp.
Oregano – ¼ tsp.
Salt & pepper – according to taste.
Garnishing:
Red & green Bell peppers – finely chopped (1/4th each).
Method:
Wash mushroom thoroughly in running water & clean with tissue paper.
Remove the stalk of the mushroom & clean from within for stuffing.
Sauté the mushrooms in a non stick pan in butter for 2mins.
Mix all ingredients mentioned above for stuffing & fill it in the sauted mushroom.
Baked the sauted mushroom for 10mins until the mushrooms are golden brown.
Garnish with chopped bell peppers & serve with mayo & cheese dip or ketchup.